Performance up to 440 m2/h weighing less than 70kg
We have developed a reliable and easy to use facade cleaning machine, which work the way you want it to because for us you are the professional.
With a view to washing the facades of low and medium-sized buildings, which very often are not equipped with facade washing systems and very often do not have specialized anchors for mountaineers, we have developed a facade washing machine Demishine 150. The facade cleaning machine weighs less than an equipped mountaineer (but washing 10 times faster), which makes it easy to hang it on the available infrastructure on the roof.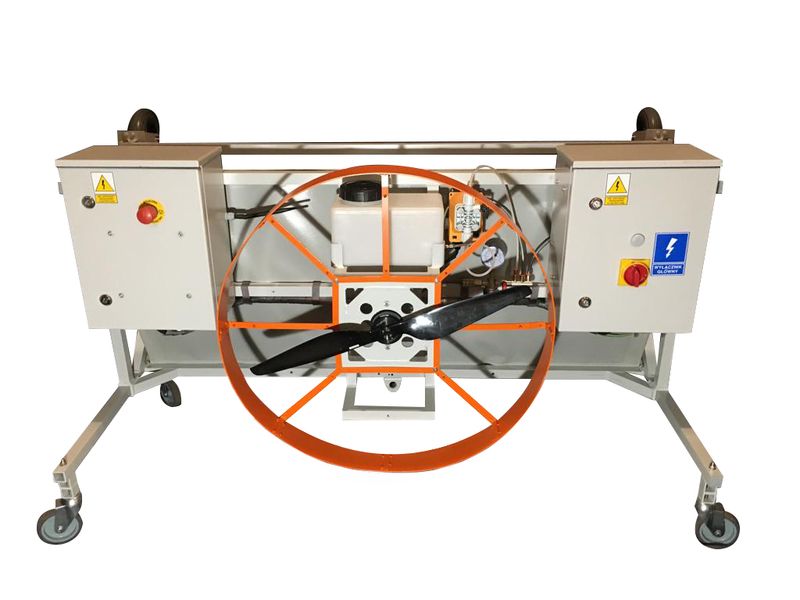 The Demishine 150 facade cleaning machine is a system for cleaning building façades made of non-porous materials. Thanks to its high capacity, the machine can quickly clean large facade areas with a team of just 2 people, and if you use a basket lift or crane, only 1 person is required for operation. 
If it is necessary to remove heavy dirt, it is possible to use surfactants as the machine is equipped with a detergent dosing pump.
Use employees where they are needed, use a facade washing machine for the rest of the work, and you'll be surprised how quickly you'll get a return on your investment by doing more jobs per season.
Change the parameters! Demishine façade cleaning machines have adjustable speed and direction of the cleaning brush so you can adjust the parameters to your needs. You can also vary the distance of the brush from the façade and adjust the water consumption according to the degree of dirt on the façade and the need to rinse out the dirt. You use as much water as necessary to achieve the best cleaning result – you decide. The operating instructions written by practitioners and training courses will help you. You adjust the washing efficiency to the degree of dirt and type of facade. You will be surprised how quickly you can clean a façade.
You can adjust parameters such as: 
Brush speed
Direction of brush rotation
Water consumption
Brush arrangement on the façade
Clamping machine for facade
Detergent concentration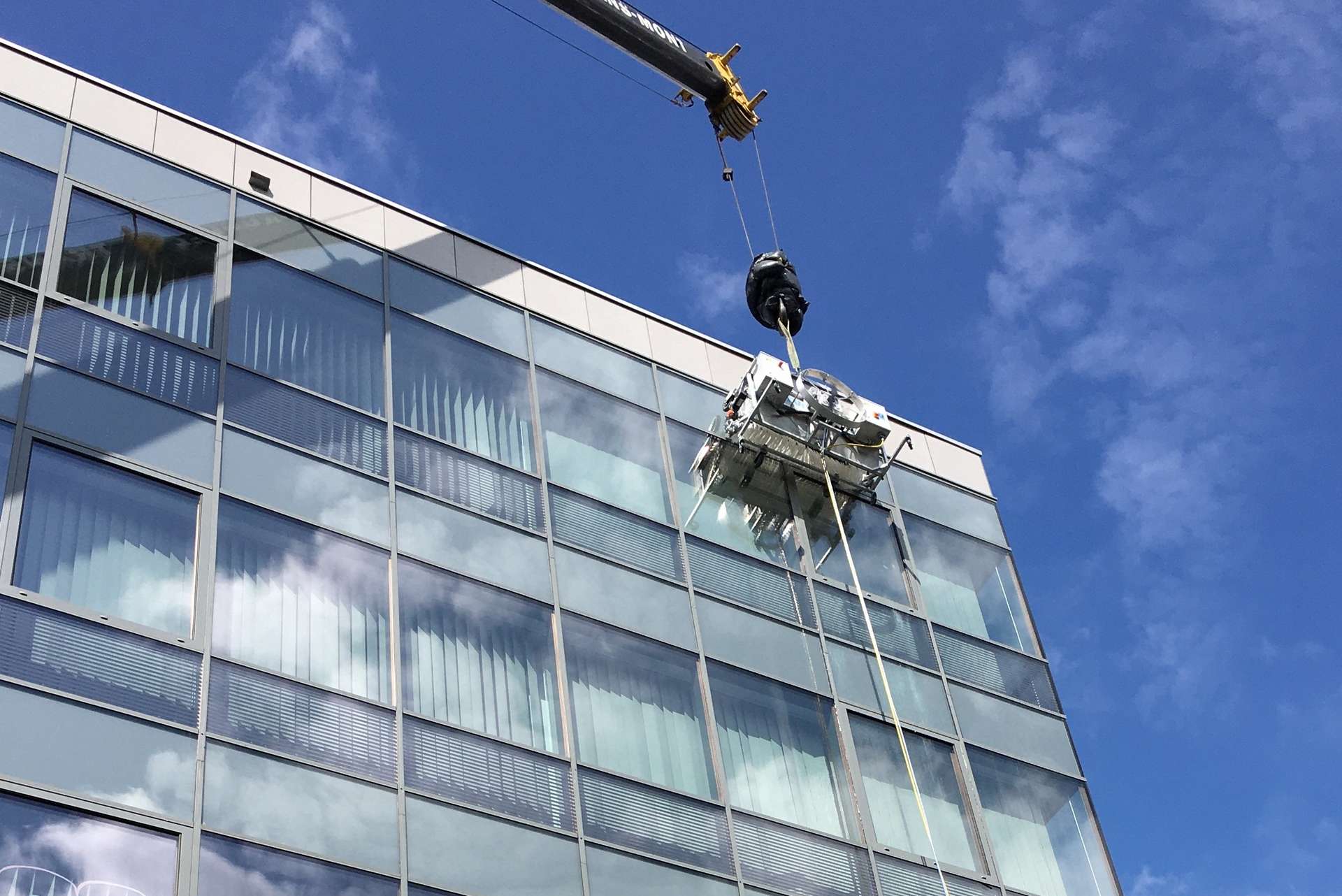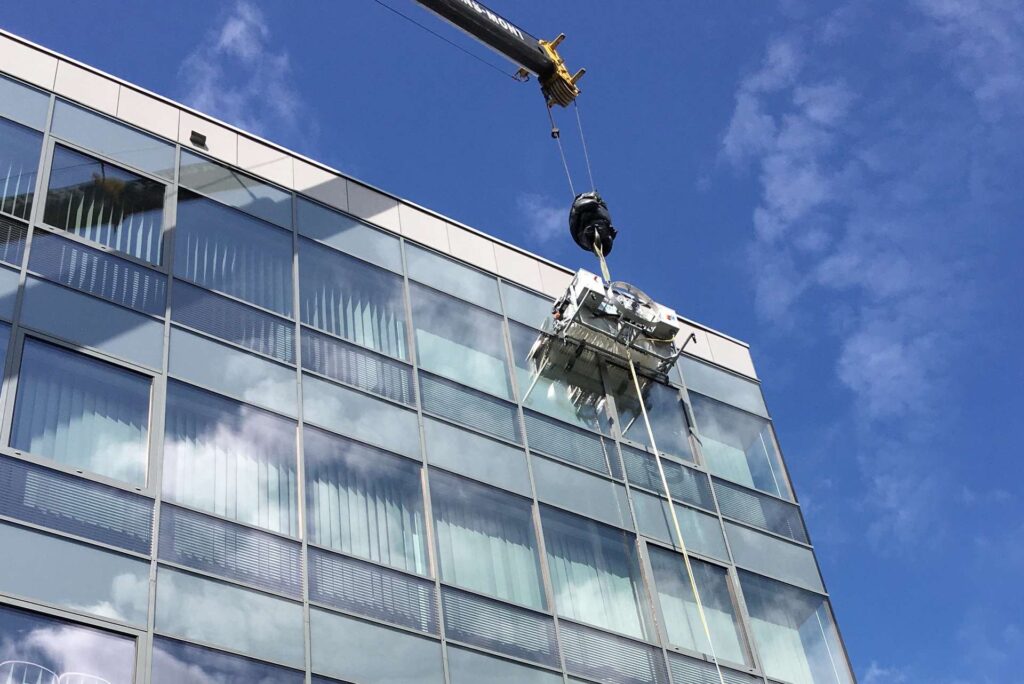 Technical specifications
Cleaning performance

od 250-440m

2

/h*

Power supply

230V, 50Hz

Power

3400W 

Demineralized water consumption (depending on configuration)

117-234 l/h

Number of water nozzles

6

Cable length (electric, water hose). Standard version

50m water hose

60m power cable

Weight (standard)

68 kg

Washer weight with additional guide rollers (optional)

72,5 kg

Detergent tank capacity

5l 

Dimensions (L/W/H) [mm] (standard)

880/ 1717 / 1052  

Suggested pull-in/lower speed

9-18m/min
Dependence of washing efficiency on the hoisting speed and building height
Retracting and lowering speed [m/min].
Building height  [m]
Conversion time to the new wash riser [min]
Effective working width of the machine [m]*

Performance [m

2

/h]

9

40

2

1,2

264

12

40

2

1,2

332

14

40

2

1,2

373

18

40

2

1,2

447

9

30

2

1,2

249

12

30

2

1,2

309

14

30

2

1,2

344

18

30

2

1,2

405

9

20

2

1,2

223

12

20

2

1,2

270

14

20

2

1,2

296

18

20

2

1,2

341

9

10

2

1,2

171

12

10

2

1,2

196

14

10

2

1,2

210

18

10

2

1,2

231
*- it is assumed that the washing of successive strips of façade is performed with so called overlap of about 0,3m (1,5m-0,3m=1,2m) and the time of switching to a new washing vertical is 2min.
Unrivaled capability and performance
Customers who use Demishine 150 particularly appreciate the simplicity, ability to adjust working parameters and low weight of the facade washing machine. Thanks to these features, it is possible to clean the facades of medium-sized buildings (about 20 m high) in just 1 day.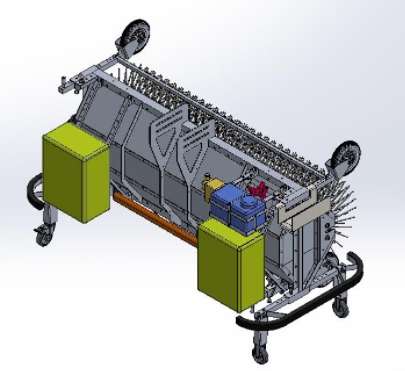 Various equipment options
The Demishine 150 façade cleaning machine can be pulled up the façade using a façade platform, a cable winch, a car lift or a car crane. It is also possible to connect the machine to the building's infrastructure. The Demishine 150 façade cleaning machine can also be used where only rooftop cranes for climbers are available. We have developed a rail system ready to be suspended from the cranes on which the machine can be moved smoothly along the building façade.
You can choose equipment options according to your current needs and then purchase additional components as needed. We can also build you a façade cleaning machine tailored to your specific needs.
see photo gallery of machines for facade cleaning and other Our products
Effect of cleaning the facade with Demishine 150 and demineralized water.