The machine was created for the biggest buildings in Europe and in the world. The machine is constantly improved and in the coming season you will see it in the latest version. At heights of 100 or 200 meters, there are often very changeable and difficult weather conditions, and it is to such conditions that Lautus I will soon be resistant, undergoing a metamorphosis into Demishine 250. The most important change will be the automatic stabilization on the building wall. This will be made possible by a specially developed lateral stabilization system during operation. The system automatically detects the lateral forces acting on the machine and prevents it from moving and, if necessary, corrects the position of the machine on the façade so that it can move smoothly along the planned cleaning trajectory. In addition, the operator can move the machine horizontally on the façade independently of the winch operation and smoothly avoid obstacles.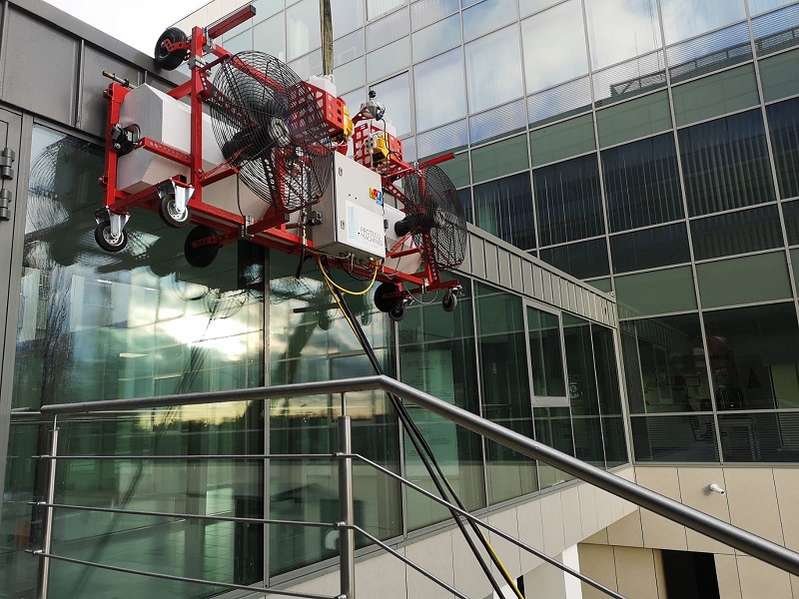 The machine is controlled wirelessly and all utilities such as electricity and water are fed from the ground. We have developed a system of feeding water to the height of 250 meters and we can deliver it to you together with a façade washing machine and a mobile osmosis station producing demineralized water.
The machine has free electrical sockets to connect additional accessories or a rope winch which can be plugged into the machine. 
Current parameters of the LAUTUS I façade cleaning machine
Technical specifications
Cleaning performance

600m

2

/h*

Power supply

380V, 50Hz

Power

9kW 

Number of water nozzles

12

Weight(standard)

270 kg

Detergent tank capacity

2 x 10l 

Dimensions (L/W/H) [mm] (standard)

2760/1020/ 1490 

Suggested pull-in/lower speed

9-12m/min
* – performance depends on the speed of the intake and the height of the building. The degree of contamination of the façade is also important.
Each building is different so we can adapt the machine to your needs.

Learn more